Customer feedback and a focus on winning repeat buyers are key ways to grow the size of a small business, according to entrepreneur Taryn Williams.
The award-winning founder of WINK Models and The Right Fit highlighted the importance of knowing your customers in order to boost sales in the new podcast series, Mentor Next Door, from Xero and News Corp Australia.
Ms Williams also suggested forming partnerships with complementary brands during the podcast, where she coached Brooke Rudzis of luxury bath towel company Sunday Minx.
Ms Rudzis set up the brand in 2015 and sells designer bath towels in bright colours and bold prints through an online store.
With a passion for being her own boss and 10 years of experience in the corporate world across sales, marketing and advertising, she challenged herself to strike out on her own and see what she could achieve.
The company has gained a following through exposure in monthly homewares magazines, Stellar magazine in News Corp's Sunday newspapers and home renovation television show The Block, working with a PR company at launch.
Digital marketing through email newsletters and Instagram posts have also helped build the brand.
But bath towels are hardly a frequent purchase, she acknowledges.
"Most people would hold onto their towels for two to three years," Ms Rudzis says.
"So finding new customers is so important because once someone has invested and bought a whole new set — or a couple of sets if they're looking after a family — I might not hear from them for another two to three years."
Mentor Ms Williams recommends small business owners talk to their customers and ask for feedback.
"Don't be afraid to pick up the phone and give them a call," Ms Williams said.
"How did they find the product? [Are] there particular colours or trends that they might be interested in seeing coming up?"
She also suggested that as part of the purchase process, Ms Rudzis offer customers the opportunity to say where they heard about the product, and consider the channels that would suit customers best, such as working out whether to pay the upfront costs to retail distributors to lift sales instead of using only an online platform.
Develop a sense of how often and in what way different customer personas prefer to be spoken to, she said.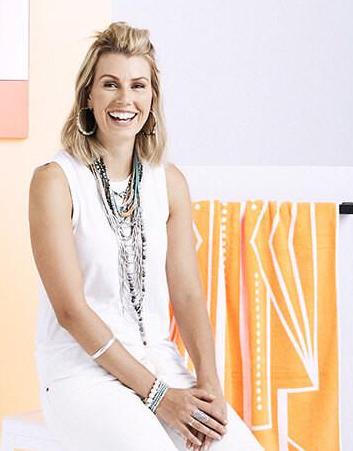 Another way to grow the size of a small business is to nudge customers who have already bought one product towards repeat purchases, according to Ms Williams.
After a prospective buyer had signed up to receive email newsletters, perhaps they could be sent a discount voucher after 14 days and bathroom styling advice after 30, she suggested.
Email tools including MailChimp, Campaign Monitor or HubSpot that automate mailouts could be used to contact clients, as could text messages or Facebook.
For example, customers could receive details of other towels available in colour schemes that match their original purchase.
But Ms Williams discourages buying a database list of potential customers, saying cold-contacting clients could do significant damage to a brand.
Instead, she recommends partnerships with like-minded companies that offer exposure to prospective buyers.
"Collaborations are incredibly powerful."
"If you can reach out to some of those complementary brands in your space and say, 'Okay, could we do some sort of content cross-promotion, or collaboration together? Perhaps I could include you in my email reach-out to my database, could you include me in yours?'"
One way to collaborate could be through creating whitepapers or downloads, which for a towel brand could focus on interior styling or bathroom design trends, for example.
Or the company could even contact Australian fashion designers about working on a partnership.
"I think collaborations are incredibly powerful," Ms Williams said. "I think if you can find someone whose audience is similar to yours … As long as when you're looking at collaborations you're looking at them with a really cohesive approach."
Ms Williams also suggests founders guard their time by keeping email communication brief, only working on a single task at once and having a polite template ready to say no to extraneous meetings or events.
She warns small business owners against trying to do everything themselves, and encourages outsourcing tasks such as accounting or marketing to experts.
"It's impossible for you to be all things to all people," she says.
Content produced in association with Xero
https://www.theaustralian.com.au/business/a-model-example-of-how-to-grow-a-business/news-story/85e59da7b6ca9af05abc810166a7644b?mvt=i&mvn=35d1c5dae56c4dee9ae8f46be2f450b0&mvp=NA-AUST-11238968&mvl=Default%20%5BRight%20Hand%20Side%20Polar%5D